Welcome To The Theosophical Society,
Deerfield Beach Branch Website!
By SAM (Sharon Ann Meyer)
The Theosophical Society, Deerfield Beach Branch offers a sacred space to share and commune, a safe place to discuss science, religion, philosophy and all metaphysical aspects of life on earth, including spiritual awakening. There is no charge for programs and you need not be a member to attend events.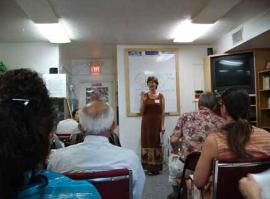 This is a community of open minds committed to assisting humanity without distinction of race, creed, sex, caste, or color, while holding a clear space for connecting, communing and committing to ones Higher Self.
The Theosophical Society, Deerfield Beach Branch is dedicated to furthering higher states of consciousness though understanding and processing all aspects of life on earth. Stop by to dip your mind into the well. Attend nurturing events that refresh and inspire such as meditations, A Course In Miracles, Qi Gong, Bhagavad Gita, Advaita Vedanta, and gatherings on healing, conscious living and metaphysics.
CALL FOR FACILITATORS
As the world continues to spiral up in consciousness, all that does not reflect the Higher Self will continue to garner center stage for those needing to come to grips with lower aspects of the mind/body/spirit complex. It is our charge to clear the way for higher states of being through a massive clearing, cleansing and transmuting of all lower egotic aspects of self to attain more life-affirming and meaningful aspects of physicality, the merging of Higher Self with each human mind/body/spirit complex. This merging shall continue for many years but make no demands upon ones wishing to remain in lower aspects of consciousness. Those ready to step up now do so though teaching, healing and reflecting a higher state of consciousness. Consider sharing your gifts, your tools, your awareness of higher aspects of being and living within this earth filled with a rising crescendo to reach heights unheard of or thought of in all time and space.
Connect now to share your unique gifts!
CALL FOR VOLUNTEERS
"One thing I know: the only ones among you who will be really happy are those who will have sought and found how to serve." Albert Schweitzer
Connect with us to build community and serve in a variety of ways.