🙌 Miami/Deerfield Theosophical Society
March Classes
"Not forsaking the assembling of ourselves together…" Hebrews 10:25
In-person gatherings assist us in recognizing our humanness, in voicing our needs and coming together in energetic ways that technological ways do not.
Theosophical Society Mission Statement: "To serve humanity by cultivating an ever-deepening understanding and realization of the Ageless Wisdom, spiritual self-transformation, and the unity of all life."
If you are already a member of the Theosophical Society in America, you can join our lodge by filling out and mailing in the Membership Application at our website.
SUNday Speakers Forums
Join us at Thubten Kunga Ling (located in the Cove Shopping Plaza, in the teal colored building upstairs), at 201 S.E.15th Terrace, Suite 206, Deerfield Beach, FL. 33441. Learn more about the venue by visiting this link: https://www.tubtenkunga.org
March 5, 2023, 3:30―5 PM
In Person
"Higher Self and Lower Self-What's The Difference?"
with Janani Cleary
To reach enlightenment, one must discover the Higher Self and destroy the lower self." This statement or similar words to that effect are often used to express what must be done for gaining liberation. While, they are perhaps well-intended, they cause more confusion than clarity. Due to a lack of understanding of what or who is the Higher Self as opposed to being the lower self, a seeker not only is unable to achieve this end goal but is also left with nothing accomplished – which only causes further frustration. To know their meaning, there must be a process of inquiry. This inquiry and the resulting resolution will be the basis of this talk.
Jane (Janani) Cleary studied under Swami Dayananda Saraswati who conducted an accredited course of study at Sandeepany Sadhanalaya at Mumbai, India, in 1978. Since returning to the U.S., she has been teaching Vedanta classes in affiliation with Arsha Vidya Gurukulam, Saylorsburg, Pennsylvania. She has taught the Bhagavad Gita and the Upanishads at our lodge for the past twenty-four years and serves on the Board as Member-at-Large.
Sunday, March 12, 2023, 3:30―5 PM
In Person
"Journey to Immortality: Cultivation of Health and Longevity in Daoism and Chinese Medicine"
with Ken Frankel
This session will examine concepts, stories, and practices related to the development of a healthful lifestyle and the attainment of longevity according to traditional Chinese sources. Tales of the Daoist Eight Immortals will be shared. Chanting, breath work, Qigong movements, and meditation will be incorporated into the session.
Ken Frankel is trained in qigong, has been practicing it for over twenty years, and teaches classes in the Deerfield Beach area. He currently serves on the Board as Vice President 2.
March 19, 2023, 3:30―5 PM
In Person
"Tribal Equinox Spirit, Animal Ceremony"
with Loli Jane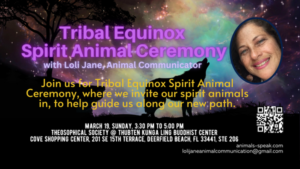 Join us for an invocation ceremony calling in ancestors, spirit animals, and elements to help guide us on our new path. This is best done while laying down, so if you are able to do so please bring creature comforts like yoga mats, blankets and pillows; pen and paper to jot down notes. We will share experiences after our ceremony. Come at 3:15 pm to set up for we will start promptly at 3:30 pm.
Loli Jane, Certified Professional Animal Communicator with The Gurney Institute of Animal Communication, is a Pranic Healer with the Institute of Asian Studies. She is an "interspecies communicator" that provides highly effective remote energy healing and does Pro-Bono work with the Honolulu Zoo, and has worked with Wild Heart Sanctuary, Pacific Primate Sanctuary, and the Wildlife Waystation. For more information about Loli visit Animals Speak.
March 26, 2023
In Person
"Antahkarana And Power Centers"
with Sharon Ann Meyer (aka SAM)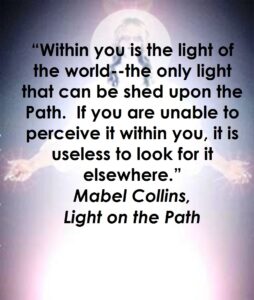 Today we continue our discussion of humanities seven principles moving on to the link between Lower Self and Spiritual Soul. Learning how to hone and strengthen this vital connection to higher states of consciousness assists us in an ever-changing world as we become in tune with each plane.
Wayshower SAM, author of the Lightworker's Log Book Series, founder of SAM I AM PROductions, and administrator of LightworkersLog.com couples ageless wisdom with personal experience in multiple realities. She is the Corresponding Secretary for our lodge.
SUNday programs are open to the public without charge. We operate entirely by donations to balance giving and receiving and to continue our work of spreading the message of theosophy. All donations are tax deductible under the U.S. Internal Revenue Code, section 501(c) (3).
Support your Spiritual Truths!
ONGOING ONLINE CLASSES ~ All Times EST
For ZOOM:
Dial by your location
+1 312 626 6799 US (Chicago)
+1 646 558 8656 US (New York)
+1 301 715 8592 US (Washington D.C)
+1 346 248 7799 US (Houston)
+1 669 900 6833 US (San Jose)
+1 253 215 8782 US (Tacoma)
Find your local number: https://us02web.zoom.us/u/kbENYp7mlc
Sundays, 6―7pm.
BHAGAVAD GITA: CHAPTER 18: The Final Chapter – The Final Frontier – This Chapter sums up everything that has been covered throughout the previous 17 chapters of the Bhagavad Gita. In it's content, the full vision of how the Higher Power, the world and you are non-separate and complete despite the appearance of so much difference; is unfolded. ~ Facilitator: Janani Cleary https://zoom.us/j/3406182173
Meeting ID: 340 618 2173 Passcode: 123456
Wednesdays, 7―8pm.
TATTVABODHA ~ Facilitator: Janani Cleary

https://zoom.us/j/3406182173
Meeting ID: 340 618 2173 Passcode: 123456
This fundamental text provides a foundation for understanding Vedanta.
We do appreciate all contributions. If you wish to donate, please do so by mailing your donation to:
The Theosophical Society
3907 N. Federal Highway
PO Box #151
Pompano Beach, FL 33064

"To live to benefit mankind is the first step." ~ H. P. B.